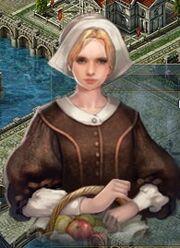 The
Servant
is one of the NPCs roaming the city.
When interacted with, she has the follwoing to say:
"I have to work hard every day to make sure my family has enough to eat."
"That merchant is such a liar. He tells people he travels the world, but I've never seen him leave his shop."
"I was forced to flee to this city when my homeland was invaded. I feel much safer here."
"Before sending your troops to attack another lord's city, you should send your spy to learn more about the enemy's defenses."